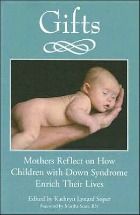 "Gifts"- Mothers reflect on how children with Down syndrome enrich their lives
Edited by: Karthryn Lynard Soper and Foreword by: Martha Sears, RN
Overview:
HAVING A BABY WITH DOWN SYNDROME is not something most parents would willing choose. Yet many who travel this path discover rich, unexpected rewards along the way. In this candid and poignant collection of personal stores, sixty-three mothers describe the gifts of respect, strength, delight, perspective, and love which their child with Down syndrome has brought into their lives.
The contributors to this collection have divers' personalities and perspectives, and draw from a wide spectrum of ethnicity, world views, and religious beliefs. Some are parenting within a traditional family structure; some are not. Some never considered terminating their pregnancy; some struggled with the decision. Some were calm at the time of diagnosis; some were traumatized. Some write about their pregnancy and at the months after giving birth; some reflect on your experience with their child.
Their diverse experiences point to a common truth: The life of a child with Down syndrome is something to celebrate. These women have something to say—not just to other mothers but to all of us.
"This fine book helps dispel the fear and misinformation about Down syndrome that many parents and prospective parents face. As these deft essays convey, the world would be a sweeter place with more Down syndrome citizens, not fever." -George F. Will