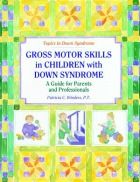 "Gross Motor Skills in Children with Down Syndrome"-a guide for parents and professionals
By: Patricia C. Winders, P.T.
Overview:
Children with Down syndrome master gross motor skills—everything from rolling over to running—but need additional help and encouragement to maximize development. In GROSS MOTOR SKILLS IN CHILDREN WITH DOWN SYNDROME, the author, a physical therapist, shares her expertise and experience gained from sixteen years specializing in the motor development of children with Down syndrome.
This book provides parents and professionals with essential information about motor development including the impact of temperament and the effect of physical and medical conditions associated with Down syndrome. Over 100 activities and accompanying phots make it easy to practice motor skills with infants and children through age six. Lists of motor milestones included at the end of each chapter and in the appendix are useful in tracking a child's progress and determining what to work on next. Gross motor skills covered include:
o Head control
o Rolling
o Sitting
o Crawling
o Standing
o Walking
o Walking up and down inclines
o Kicking a ball
o Walking up and down stairs
o Running
o Jumping
o Riding a tricycle
With this book, parents gain insight into how they can best help their child in this vital area of development. Professionals will find it a good tool for assessment and treatment, plus a handy resource for assigning home activities to parents.
"This book, full of loving earnestness, is a milestone in affirming best personal progress for children with Down syndrome. It contains an astounding number of productive parent/child activities." –Allen C. Crocker, M.D., Director of Developmental Evaluation Center, Children's Hospital, Boston and Co-chair, Professional Advisory Committee for National Down Syndrome Congress