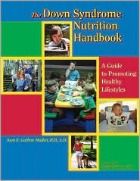 "The Down Syndrome Nutrition Handbook"- A guide to promoting healthy lifestyles
By: Joan E. Guthrie Medlen, R.D., L.D. and foreword by: Timothy P. Shriver, Ph.D.
Overview:
This much-needed book is the first to look at all aspects of nutrition and healthy living for children with Down syndrome, from birth through your adulthood. The author, a registered dietitian and a mother of a child with Down syndrome, encourages parents to start teaching healthy habits early in their child's life, but stresses that it's never too late to start.
The Down Syndrome Nutrition Handbook thoroughly describes the connection between Down syndrome and nutrition and provides numerous hands-on and fun activities to teach and practice nutrition concepts. Chapters cover:
o Breast and bottle feeding
o Basic nutrition and physiology
o Celiac disease
o Diabetes
o Alternative therapies
o Food and school
o Weight management
o Fitness and exercise
o Cooking and menu planning
o Teaching activities
Additional information for implementing a plan for healthy living is provided in the extensive appendices—cookbook lists, information for calculating calorie needs, growth charts, food safety tips, activity suggestions—as well as resources and reading lists.
"Combines science with good sense, facts with wisdom, and reality with hope." –Timothy P. Shriver, Ph.D., President and CEO of Special Olympics International
"This book is a unique, comprehensive personal library addition for any parent or professional caring for a person with Down syndrome." –Denise I. Allshouse, Mother of five children, three of whom have Down syndrome, President Fresno Area Down Syndrome Society in Fresno, California.