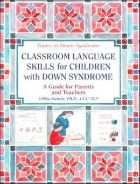 "Classroom language Skills for children with Down Syndrome"- a guide for parents and teachers
Libby Kumin, Ph.D., CCC-SLP
Overview:
For children with Down syndrome one of the many benefits of learning alongside typical classmates is the increased opportunity for communication development. But these same opportunities can also create significant challenges because of wide-ranging abilities in speech and language among children with Down syndrome. Libby Kumin, Ph.D., CCC-SLP, a leading expert on individuals with Down syndrome and their communication development, shares her expertise in this practical guide for parents, teachers, and speech-language pathologists.
Classroom Language Skills For Children With Down Syndrome covers every aspect of a child's language needs from kindergarten through middle school. After a thorough overview of the characteristic communication problems associate with Down syndrome and how they affect children in school, the book explores the best strategies for adapting schoolwork and improving teacher-student communication. Included are tips on how to adapt curriculum, spoken instructions, written assignments, and classroom routines to meet the needs of students with Down syndrome. Samples of worksheets, checklists, graphic organizers, visual prompts, and a IEP planner make it easy to get started.
The book also covers augmentative communication methods for children who use little or no speech, as well as methods for enhancing conversation and social communication between children with Down syndrome and their peers. By illustrating the key connection between language, learning, and school success, this guide is a must-have reference for any parent or teacher of a child with Down syndrome.
"A caring professional has written a comprehensive book that guides the parent, teacher, and therapist of a child with Down syndrome through the elementary and middle school years. It will support a child learning in an inclusive classroom; assist in writing an appropriate IEP; and help with social interactive communication. A definitive book for the support of children with Down syndrome. –Jay Silverman, Parent and Co-Founder Chesapeake down Syndrome Parent Group, Inc.