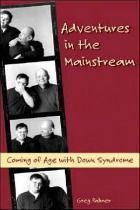 "Adventures in the Mainstream"-coming of age with Down syndrome
By: Greg Palmer
Overview:
Greg Palmer, an award-winning writer and producer of PPBS documentaries and plays for families, chronicles two of the most important years in the life of his son, Ned, who has Down syndrome—the time when he's making the transition from high school to work. This intimate, often humorous account is woven with vivid anecdotes concerning school, family, relationships, and work (both Ned's and Greg's), including a father-son cruise around the British Isles; Ned's band conducting debut; and an amusing visit to a Hooters restaurant. Greg makes us care about his son's strengths and fibles as he does, whether describing how Ned impresses strangers by reciting poetry and playing the piano or his struggles to learn to handle money, responsibility, and the death of a friend. An absorbing and insightful read, Adventures in the Mainstream offers reassurance to other parents and enlightens us all about what's really involved—for father and son—in a young man's important journey from adolescence toward adulthood.
"This extraordinary book should be read by every parent of a child with Down syndrome! With exquisite detail and eloquent personal intimacy, Greg Palmer shares with us every aspects of parenting a yyoung adult with Down syndrome. The joys, disappointments, fears, rewards, challenges, and the overwhelming love and pride—it's all here, beautiful told with humor and passionate authenticity. The book resonated with me on every page!" –Emily Perl Kingsley, Emmy-Award-winning writer for Sesame Street, and former member of the National Down Syndrome Congress Board of Directors.