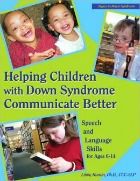 "Helping Children with Down Syndrome Communicate Better"-Speech and language skills for ages 6-14
By: Libby Kumin, Ph.D., CCC-SLP
Overview:
As children with Down syndrome reach age 6, they encounter more complex speech and language demands in their learning and relationships with others. This is when gaps in communication abilities between children with Down syndrome and their typically developing peers begin to widen, Helping Children with Down Syndrome Communicate Better provides parents and professionals with the information and resources they need to improve their child's communication at school, at home, and in the wider community.
Written by Dr. Libby Kumin, an expert on Down syndrome and communication, this is the only book about speech and language issues for children with Down syndrome ages 6-14, and is the sequel to Early Communication Skills for Children with Down Syndrome. Encouraging and parent-friendly, it covers the scope of speech and language issues important for this age group including:
o Distinctions between language and speech
o Factors making speech and language difficult
o The evaluation process
o Assessment of language and speech skills
o Language treatment
o Speech treatment
o Communication skills at school
o Communication skills at home & in the community
o Conversation skills
o Assistive technology for communication
Case studies, home and school practice activities, a reading list, resource guide, and more complement the book's wealth of practical suggestions and strategies.
"This book is a great source of information for everything you need to know about communication, language and speech in people with Down syndrome. Libby Kumin shares her decades of clinical experience with parents, teachers and therapists, providing a complete guide to help people with Down syndrome obtain the skills needed for success in school and beyond." –Zoila Martinez, parent of a 10-year-old daughter with Down syndrome and Diversity Outreach Resource Coordinator with National Down Syndrome Congress