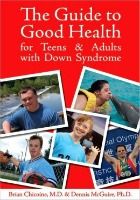 "A Guide to Good Health for Teens & Adults with Down Syndrome"
By: Brian Chicoine, M.D. and Dennis McGuire, PH.D.
Overview:
The Guide to Good Health for Teens & Adults with Down Syndrome covers the complete scope of healthcare and wellness needs for adolescents and adults, and is the companion book to the authors' highly acclaimed Mental Wellness in Adults with Down Syndrome (Woodbine House, 2006).
Drs. Chicoine and McGuire provides families, caregivers, and medical professionals invaluable insight into what health problems are more common in their patients, and how medical issues can present uniquely in people with Down syndrome. In a clear, empathetic style, they discuss how to promote a healthy lifestyle to prevent problems, and how to recognize health problems early on to ensure appropriate care for the best outcome. Key topics include:
o Characteristics of Down syndrome that can affect health
o More commonly occurring medical issues
o The connection between mental & physical health
o Dealing with hospitalizations
o Long term health and well being throughout the lifespan
o Advance directives and end-of-life issues
o Specific medical conditions (ranging from skin and nail problems, eye, nose and throat issues, and cardiac concerns, to thyroid disorder, diabetes, Alzheimer disease, and sleep problems)
With today's generation of people with Down syndrome living longer, parents and caregivers will want this essential book to guide them in ensuring optimal health and a bright future for their teen or adults.
"Drs. Chicoine and McGuire have created a must-read book for families and healthcare providers who care for adults with Down syndrome. This accessible and encyclopedic work will always be on my self. An essential guide to caring for adults with Down syndrome, it covers the latest of the medical literature as well as indispensable pearls from their 18 years of clinical experience." –Peter Bulova, M.D., Medical Director at University of Pittsburgh Adult Down Syndrome Center