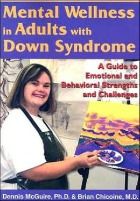 "Mental Wellness in Adults with Down Syndrome"- a guide to emotional and behavior strengths and challenges
By: Dennis McGuire, PH.D. and Brian Chicoine, M.D.
Overview:
MENTAL WELLNESS IN ADULTS WITH DOWN SYNDROME is an upbeat, thoroughly readable guide, providing parents, mental health professionals, teachers, and caregivers the keys to understanding how to promote mental wellness and resolve psychosocial problems in people with Down syndrome. This groundbreaking book is written by the founding directors of the Adult Down Syndrome Center of Lutheran General Hospital in Park Ridge, Illinois. The authors draw on nearly 30 years of combined experience, treating more than 3000 adolescents and adults with Down syndrome aged 12 to 83. The book clarifies what the common behavioral characteristics of Down syndrome are, how some could be mistaken for mental illness, and what cona fide mental health problems occur more commonly in people with Down syndrome.
The first section offers a wealth of knowledge and insight about typical emontional and behavioral traits of teens and adults with Down syndrome. Topics include:
o Community &Family Support
o Self-Talk & Imaginary Friends
o Communication-Related Problems
o Memory Strengths & Deficits
o Emotional Development
o Tendencies Toward Sameness & Repetition
o Self-Esteem & Self-Image
o Lifespan Issues
The second section on mental illness includes chapters on such conditions as:
o Depression & other Mood Disorders
o Anxiety
o Obsessive-Compulsive Disorder
o Tie Disorders & Repetitive Movements
o AD/HD and other Impulse Control Issues
o Autism
o Alzheimer Disease
For each condition, the authors describe the problem signs, the diagnostic process, and a range of treatment options, such as counseling, behavioral therapy, and medication.
"What outsiders rarely understand, and what often comes as a surprise to parents, is that a lot of the issues we deal with when caring for a person with Down syndrome aren't intellectual or developmental, they're behavioral; not 'Why Johnny can't read,' but 'Why Johnny won't eat anything that isn't brown.' The great thing about this book is that is calms your concerns in some of these areas, and is of great help in recognizing, understanding, and dealing with all of the others. I think my 24-year-old son is generally well adjusted, but it's no exaggeration to say that I found something new, something of interest, some insight, on practically every page." –Greg Palmer, parent, and author of ADVENTURES IN THE MAINSTREAM: Coming of Age with Down Syndrome