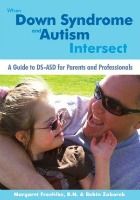 "When Down Syndrome and Autsim Intersect"- A guide to DS-ASD for parents and professionals.
By: Margaret Froehike, R.N. and Robin Zaborek
Overview:
When Down Syndrome and Autism Intersect is the first book ever to focus on the unique profile and challenges of a Down Syndrome-Autism Spectrum Disorder (DS-ASD) diagnosis. This one-stop resources will greatly benefit families whose child is already diagnosed, and also those who suspect something more than Down syndrome. Professionals, too, will find information on how to distinguish DS-ASD from a diagnosis of just Down syndrome, and guidance on providing services for children and adults.
Written by a team of vetern parents and professionals, it covers every aspect of caring for children and adults with DS-ASD, including medical and dental needs, education, and sleep and behavior problems, as well as addressing the additional challenges when DS-ASD is present in people from a multicultural background. Full of good will and respect for people with a DS-ASD diagnosis and their families, this book offers sound advice that's steeped in research and clinical findings, and grounded in practical experience.
"As the father of twin boys with DS-ASD, I would have loved to have had this comprehensive and compassionate book 18 years ago. The information it contains will benefit families, medical professionals, and educators, as it is truly a guide based on lives like my family's and so many more. Very well done." – Kelly Rrei, Denver Colorado