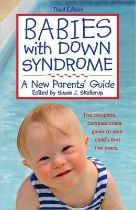 "Babies with Down Syndrome"- a new parent's guide 2nd edition
Edited by: Karen Stray-Gundersen
Overview:
Babies with Down Syndrome, the trustworthy guide which has benefited thousands of families since it was first published in 1985, is completely revised and updated in a new, third edition. Covering the best practices for raising and caring for children with Down syndrome through age five, this book is invaluable to new parents who have welcomed a baby with Down syndrome into their lives.
This new edition incorporates the latest scientific, medical, educational research, and practical information available, as well as parents' suggestions and feedback. Existing chapters have been revised, some completely rewritten by new authors, and in keeping with its parent-friendly reputation, most of the book's contributors are parents of children with Down syndrome.
CAPHIS Consumer Connections
BABIES WITH DOWN SYNDROME is highly recommended for consumer health information collections. It is clearly written and has a compassionate tone that draws the audience in. while it is designed primarily as a resource for parents, it will also be of benefit to the teachers and therapists who work with very young Down syndrome. The 'extras' include a reprint of the inspiring essay Welcome to Holland, an extensive annotated glossary and resource guide, detailed background on contributors, and an index.
On a personal note, I have a 33 year-old Down syndrome nephew who thrives and continues to be a joy to his family.