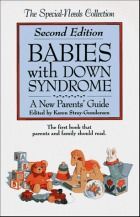 "Babies with Down Syndrome"- a new parent's guide 1st edition
Edited by: Karen Stray-Gundersen
Overview:
Babies with Down Syndrome- the book that thousands of new parents and professionals have turned to as their first source of information on Down syndrome—is newly revised and updated. The second edition is written by the same group of knowledgeable parents, doctors, nurses, educators, and lawyers, who cover everything parents need to know about raising their child in an environment of love, pride, and achievement.
Since its publication in 1986, Babies with Down Syndrome has been highly praised for its compassionate voice and expansive focus on the varied issues that faced parents and families. Now the new edition of this classic guide improves on the original with up-to-date information on prenatal testing, early intervention, legal & medical issues and resources.
"Babies with Down Syndrome is highly recommended reading for parents, family members, and any other individuals desiring a comprehensive, easy-to-understand, contemporary introduction to Down syndrome." – Disability Studies Quarterly
"Like the first, this edition is a recommended selection for every new parent's library – in fact, a first choice." – Down Syndrome News