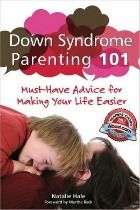 "Down Syndrome Parenting 101"
By: Natalie Hale and Foreword by Martha Beck
Overview:
Down syndrome Parenting 101 is required reading for parents, grandparents, or anyone who has a relationship with a person with Down syndrome. Natalie Hale offers advice on everything from celebrating a child's unique personality and seeing him for who he is to insisting he finish his chores and ensuring he has the space to be his own person as an adult. She leads readers through every stage of growing up, highlighting the experiences and people they will encounter along the way. She also lends tremendous support to parents, with frequent reminders to follow their intuition, embrace their sense of humor, and remember that even children with Down syndrome need discipline from time to time.
Chapters are purposely short, explains Hale, "Because frankly, my dear, you don't have time to read." And to top it off, Down Syndrome Parenting 101 includes a foreword by Martha Beck, mother of a child with Down syndrome and author of The New York Times bestseller, Expecting Adam. Parents, caregivers, friends, and relations will turn to this upbeat book for credible, realistic advice, and a healthy dose of armchair therapy and humor.
"Blending humor, heart-warming stories, and valuable information, Natalie Hale provides a beautiful resource that sheds light on the many joys of this journey. As a parent who has just begun to explore the new path, I was enlightened and inspired." –Kelle Hampton, author of the blog, Enjoying the Small Things.