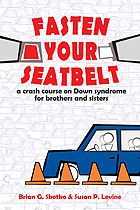 "Fasten Your Seatbelt"- a crash course on Down syndrome for brothers and sisters.
By: Brian G. Skotko & Susan P. Levine
Overview:
Event the closet brothers and sisters don't always get along or understand each other. Add a disability like Down syndrome to the mix, and sibling relationships get even more complicated, especially for teenagers. With nearly 100 questions and answers on a broad range of issues, Fasten Your Seatbelt" , is a complete guide to the joys and challenges of growing up with a brother or sister who has Down syndrome.
"This guide to the world of Down syndrome for teenagers is written in your own language and filled with shared experiences and ideas on how to be great brother or sister." –Allen Crocker, Down Syndrome Program, Children's Hospital Boston.
"This is a wonderful hands-on, practical guide for families. It answers all those questions you have and don't know who to ask. I wish we'd had a copy growing up!" –Jennifer Owens by, sister of a person with Down syndrome and Producer & Director of The Teachings of Jan
"I highly recommend this book. Brothers and sisters of people with Down syndrome will undoubtedly find reading it a tremendously education and rewarding experience." –Jon Colman, President, National Down Syndrome Society