Cool! I Can Cook!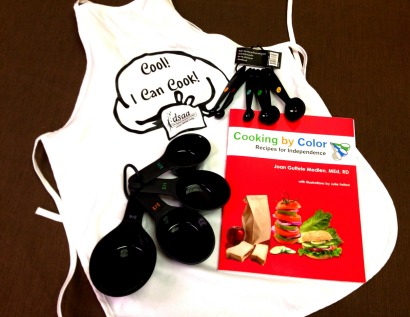 Cool! I Can Cook! is an educational event that teaches individuals with Down syndrome the basics of cooking to increase their independence at home and within the community.  When you sign-up to be a Cool! I Can Cook! chef you will receive your own personalized chef apron, measuring utensils that coincides with "Cooking by Color" book.  We use "Cooking by Color" by Joan Guthrie Medlen, Med, RD as a guide for all Cool! I Can Cook! events.  We continue to plan this quarterly opportunity, fulfilling DSAA's vision to promote independence and confidence for all participants.
What is "Cooking by Color?"
"Cooking by Color" is a tool individuals with and without disabilities can use at home.  It is designed to provide the least invasive support, which effectively promotes independence in the kitchen.
"Cooking by Color" Provides:
Portion Control with Recipes
Balancing a Meal
Plan Language: recipes and directions are written in plain language, a 2nd to 3rd grade reading level.
Least Invasive Cues
Use of Visual Tools
Cooking Tools: "Cooking by Color" is designed around a color coding system for measuring and cutting boards.
---
Upcoming Event:
April 16th from 11:00 a.m. to 1:00 p.m.
---