iCan Bike Camp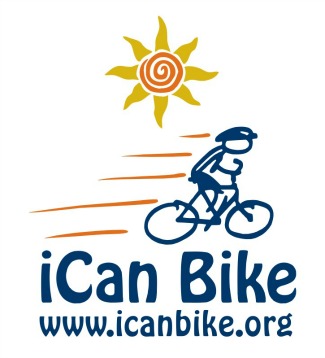 DSAA has partnered with iCan Shine and Lafayette Parks & Recreation to teach individuals with disabilities to ride a conventional two-wheel bicycle using adapted equipment, trained professions and volunteers.  With 75 minutes of instruction over five days, over 80% of riders learn to ride a conventional bicycle independently by the end of camp.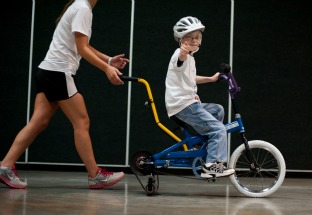 How It Works
From March 28-April 1, 2016, DSAA and iCan Shine's iCan Bike program will teach individuals with disabilities how to ride a conventional bike and become a lifelong independent rider!  iCan Bike uses a fleet of adapted bicycles, a specialized instructional program and a trained staff to teach individuals with disabilities how to ride a bike.  Riders attend the same 75 minute session each day for five consecutive days (M-F) whereby they are physically assisted and encouraged by two volunteers "spotters".
Over the course of the 5-day camp the adapted bike is adjusted to gradually introduce more instability in an effort to challenge riders at their own individual pace.  The week is concluded with a touching and inspiring award ceremony!
---
How to Register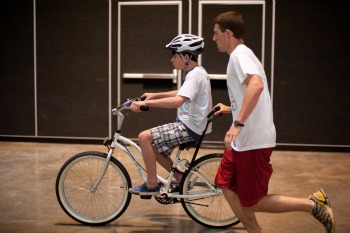 Riders are children ages 8 and up, teens and sometimes adults who have a diagnosed disability but able to walk without assistive devices and sidesteps from side to side.  Parents, teachers and therapist describe our results as INCREDIBLE.  Success is learning to ride a bicycle is a major accomplishment.  Learning to ride builds confidence and an improved self-image.  Apply early, the camp is limited to 40 riders and sessions fill quickly!  To register print out our registration form, complete, and mail to address on form.  You can also register on iCan Shine's website.
Registration Fee:
DSAA Member- $50.00
Non-Member- $100.00
Rider Requirements:
Must be at least 8 years old by start of camp and have a disability.
Must be able to walk without an assistive device and sidestep to both sides.
Must be willing and able to wear a properly fitted helmet.
Must be able to attend the same 75-minute session each day of the 5-day camp.
Must be under 220 lbs and have a minimum inseam measurement of 20" (measure from floor with sneakers on).
DEADLINE TO REGISTER AS A RIDER OR VOLUNTEER IS MARCH 4, 2016, LIMITED SPOTS AVAILABLE!
---
Be a Volunteer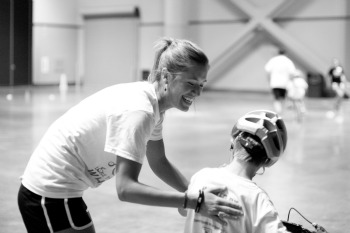 Be a "spotter" for the same rider for each of the 5 days and experience the thrill of giving the gift of riding a bike!  75 invigorating minutes per day... it just may be the most rewarding exercise and emotional experience you've ever had!  To volunteer to be a spotter download the volunteer form, complete, and mail back to address on form.
Volunteers Requirements:
At least 16 years old (unless accompanied by an adult).
Able to attend 90 minutes at the same time each of the 5 days of camp (15 minutes of training/daily debriefing).  
Able to provide physical, emotional and motivational support to assigned rider.
Able and willing to get some exercise (light jogging/running) for a great cause! 
---
Be a Sponsor
To support this endeavor contact our camp director Dawn Anslem at danslem@dsaa.info.
---
Be a Donor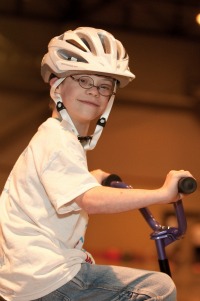 No donation is too small!  Sponsor one child by making a donation of $50.00 or more, contact our office administrator Sherry Midkiff at smidkiff@dsaa.info.