Lending Library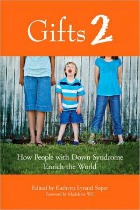 "Gifts 2"- How People with Down Syndrome Enrich the World
Edited by: Kathryn Lynard Soper and Foreword by: Madeleine Will
Overview:
Gifts 2: How People with Down Syndrome Enrich the World is the much-anticipated sequel to the award-winning and bestselling first volume.
Encompassing a broad range of perspectives on Down syndrome, Gifts 2 includes more than seventy inspirational essays from family, friends, teachers, coaches, and medical professionals who recount the gifts –they receive from knowing and caring for someone with Down syndrome.
This heartfelt collection is a source of comfort to other families, and offers insight to anyone who wonders how people with Down syndrome live today, Share, Gift 2 with family and friends, teachers or pediatricians, and helps raise public awareness and provide others a point-of-view they might otherwise miss.
"I loved the essays and experiences shared in Gifts 2. It's truly inspiring to know that with the love and support of family, friends, and community anything is possible. Our uniqueness is our gift –be proud of who you are." –Sara Wolff, Self-advocate Advisory Board, National Down Syndrome Society